Encanto Movie Review
by Richie Rich December 2021
Last week's treat was to take the family to see Encanto the new movie from Walt Disney Animation Studios. Disney's 60th animation feature is a carnival of colour, music and lovable characters and it certainly doesn't disappoint!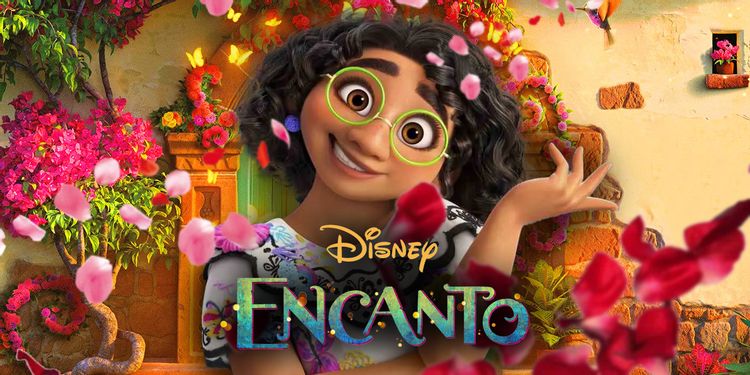 Encanto opens on a hazy night-time scene with Alma, grandma of the Madrigal family (played by María Cecilia Botero), talking quietly to a young Mirabel (Stephanie Beatriz) about the family's history of the 'gift'.
She tells a story about escaping from conflict with her husband Pedro in deepest Colombia. Along with her children Julieta, Pepa, and Bruno they try to run away but Pedro is captured and Alma and the kids are left to fend for themselves. Alma finds a candle that magically shows them the way and helps her setup a new home for the Madrigal Family called the "Casita".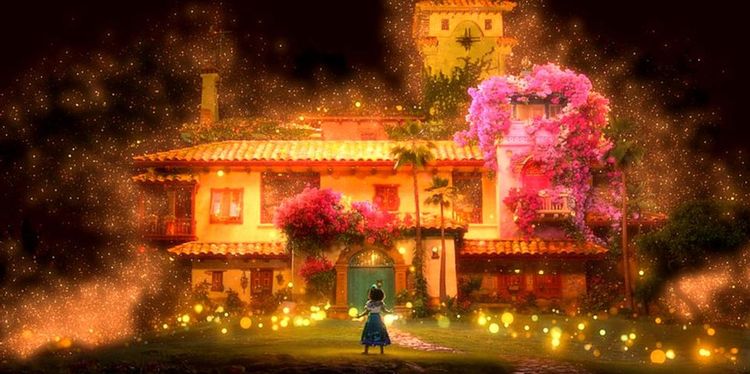 The Casita, with the mysterious candle burning within, protects everyone and a local village grows up around the house. The candle also gives a 'gift' to each member of the Madrigal family, a superhuman ability that they can use to help others and which is enshrined within magical doors inside the Casita.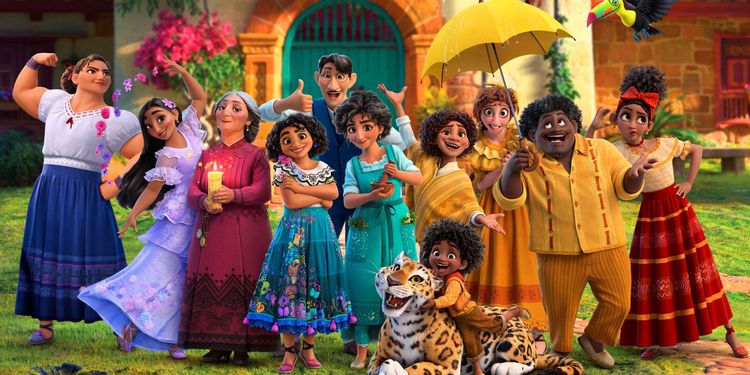 Each member of the Madrigal family uses their power to help the village. We learn about Luisa (Jessica Darrow) who has super human strength wanes. Isabela (Diane Guererro) who is perfectly beautiful and can send flowers across the sky. Dolores (Adassa) has super human hearing and Pepa (Carolina Gaitán) who can control the weather through her emotions, often badly creating storms and rain.
There's also Bruno, who's power is to see into the future, who often predicted bad things happening and become estranged from the family so he disappeared, becoming the uncle nobody talks about.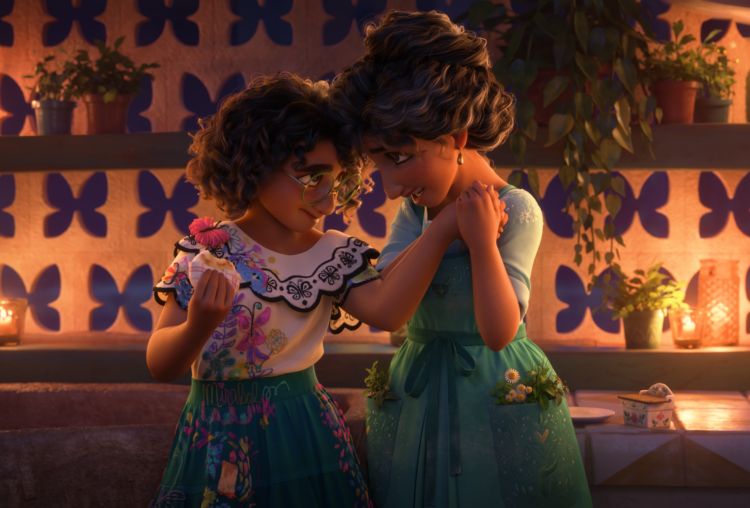 When it came to little Mirabel's turn to receive her gift something goes wrong and the candle refuses to grant her a gift. She doesn't understand why and Alma will not say but she knows something is wrong.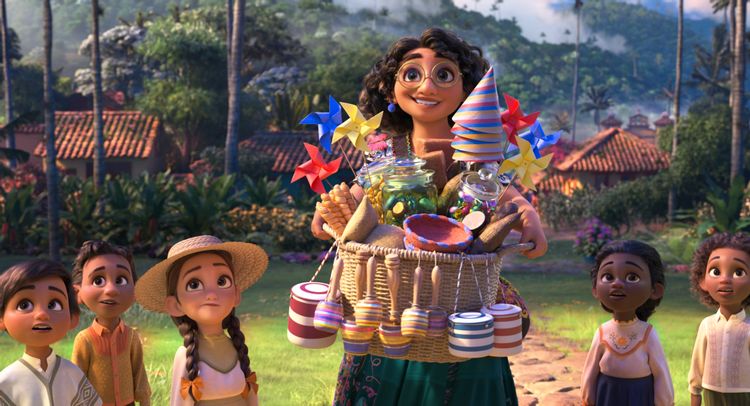 We then jump forwards a few years and it's time for Antonio, Pedros son, to receive his gift. Antonio is reluctant to come forward in case he doesn't receive a special power but Mirabel gives Antonio confidence to open his magic door. As the gift entwines Antonio a cheeky toucan, called Pico, flies up and amazingly Antonio can understand what Pico is saying.
His gift is to talk to the animals and this sparks off one of the most breath-taking songs and carnival scenes in any Disney Movie. What follows is an express sing along around the village and into the Columbian hills and forest (and is that the Tree of Life at Disney Animal Kingdom that we spot for a big chunk of this scene? Could we be seeing a new Encanto area at Disney Animal Kingdom?)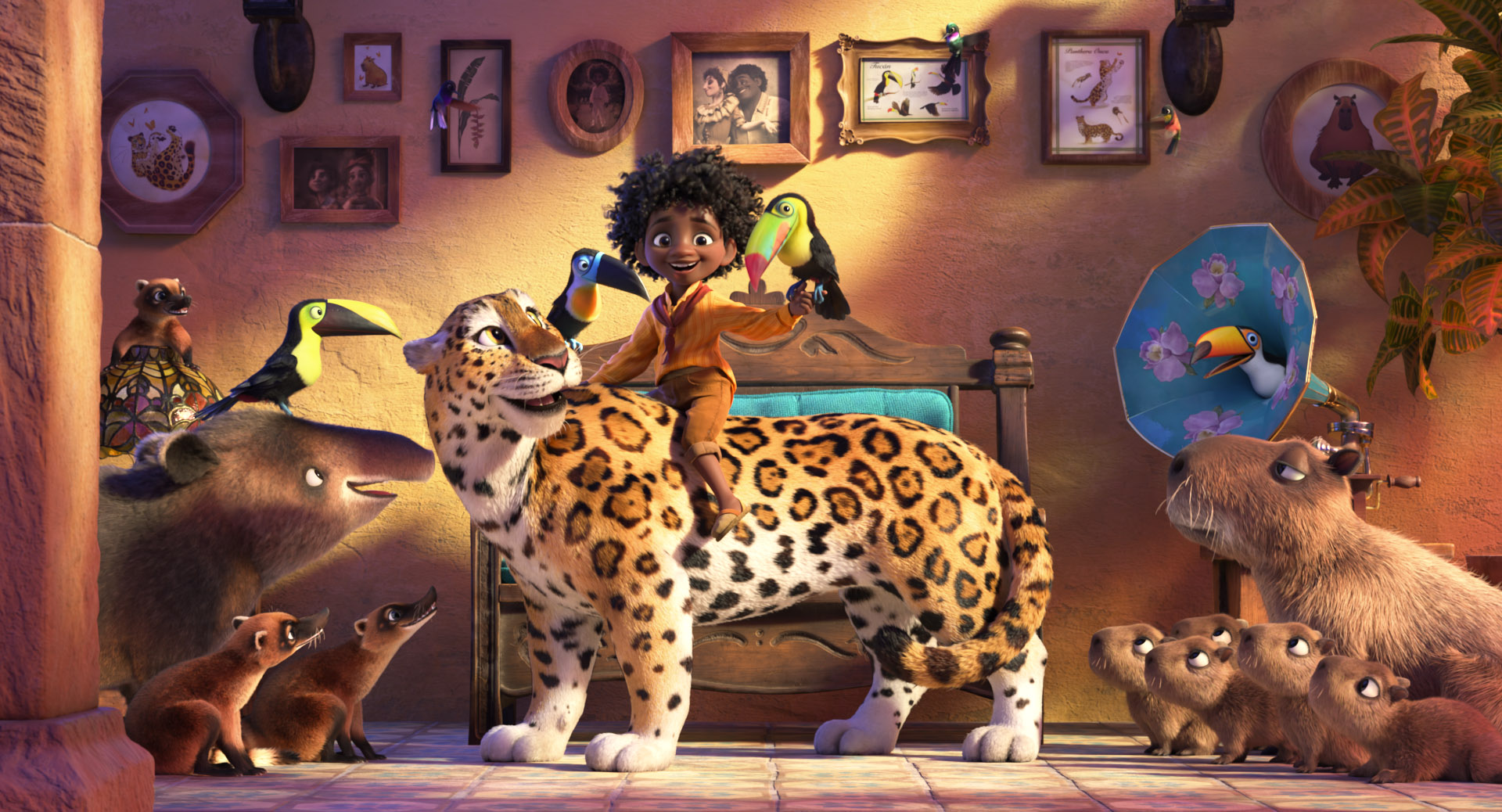 Whilst the party is in full swing Mirabel sees that the Casita is starting to crack and there is something badly wrong. She tries to tell the family but they think she is making things up. Mirabel vows to save the magic and sets out upon a journey to find out what is going wrong. Her older sister Luisa thinks that Bruno may have something to do with what's occurring. Mirabel ventures into the Bruno's forbidden hideaway and finds a sand cave with broken shards of green glowing glass. Putting them together she is shocked to see a vision showing her being the reason that the Casita is falling apart.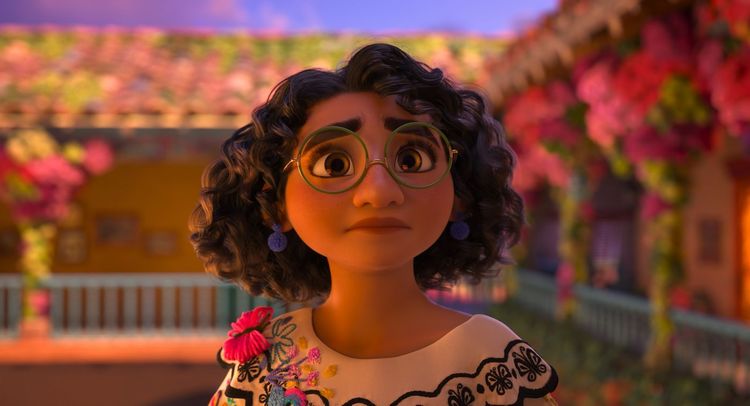 As the cracks in the house worsen the family start to lose their magical powers. Sister Luisa weakens, Isabela's flowers fade and Camilo's appearance switches for the worse. Dolores overhears Mirabel talking to her father about the vision which causes more problems and the Casita starts to crack even more.
As the light of the candle starts to fizzle out Mirabel discovers a hidden passage in the walls where she finds Bruno, who never actually left the house because he still loves his family. Mirabel convinces him to look into the future again and Bruno has another vision, which shows an image of Mirabel and Isabela embracing.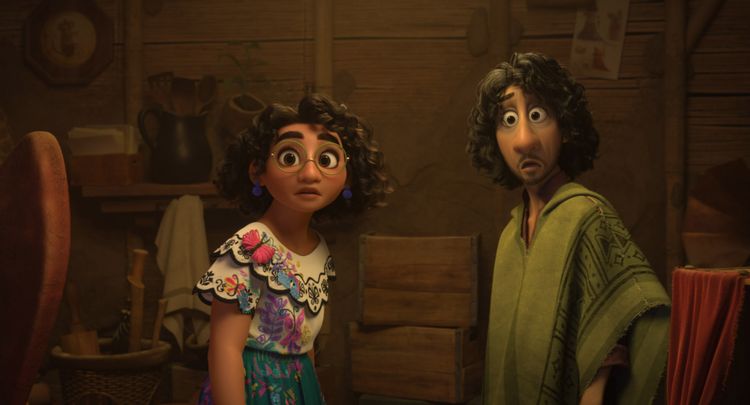 Mirabel reluctantly understands that she needs to apologise to Isabela and after Isabela pours out her feelings they find a common goal and Isabela's powers start to re-build but in a different way. Alma spots what is happening and has a huge argument with Mirabel. As this reaches its peak the house can't take any more and collapses into a pile of rubble and everyone loses their special power. Mirabel, blaming herself, is inconsolable and runs off into the forest.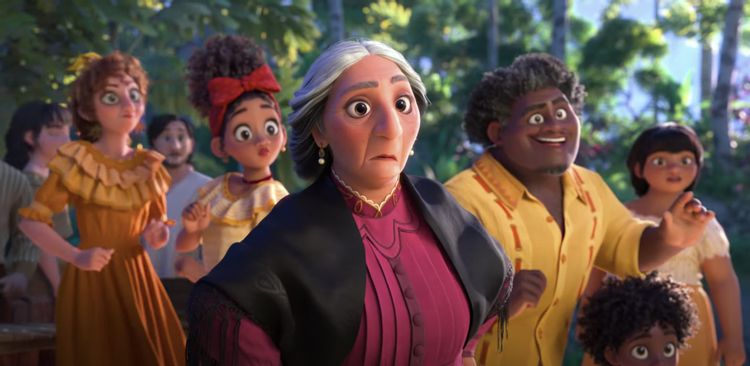 Alma realises what she has done and goes to find Mirabel. When she reaches her she admits it was her fault for putting all this pressure on everyone and forgetting what family really means. Mirabel and Alma reconcile and come home to reunite the Madrigals. Everyone comes together to rebuild the Casita and with the assistance of the villagers the house is reborn. At the end Mirabel replaces the front doorknob and the Casita magic springs back to life and a new gift is given to Mirabel as the person who can bring everyone together.
If you like your Disney animation movies full of colour, music and dance then Encanto is absolutely the film for you. It's a magical and unique story about differences and reconciliation that will make everyone leave feeling good. The plot is strong and full of interesting twists and turns and the animation is brilliant. We definitely recommend this one and think the whole family will enjoy the new Walt Disney Animation Studios' Encanto as the perfect Christmas treat!