Sing 2 - Review
Chloe Ward February 2022
Right from the get-go the new Sing 2 movie is a sing-a-long romp-a-thon.
The film opens on psychedelic ish world with everyone's favourite anxious elephant, Meena (Tori Kelly), romping through a glade of singing flowers to the tune of "Let's Go Crazy". Alongside guitar strumming bunnies in hippy glasses we are hit with Rosita (Reese Witherspoon) - a pig dressed as Cheshire Cat, as she belts out Prince's epic tune. Cut to Johnny (Taron Egerton) – a teenage heartthrob Gorilla dressed as a Mad Hatter sat a la Elton John piano.
Now cut to a pig dressed as a caterpillar dancing down the aisle and throwing out candy favours. Here comes Gunter (Nick Kroll), the last main character of the foursome. Now the troupe comes together and after a tent drop from the gods Meena is transformed into Alice in Wonderland – confused? Yes, we were too!
It turns out that this slightly crazy, but visually stunning, opener is actually a scene in the blockbuster musical by cuddly Kola hero, Buster Moon (Matthew McConaughey). Pan to audiance and watching on we see a less than impressed Suki (Chelsea Peretti), the snooty talent scout for the media mogul Jimmy Crystal (Bobby Cannavale).
Up in the gods the loveable Miss Crawley (Garth Jennings), an elderly iguana with a glass eye who works as Buster's administrative assistant is trying to suss out if Suki likes the show or not by counting the number of gasps she is letting off.
Despite singing their hearts out Suki appears less than impressed and heads off early telling Buster "you're not good enough".
Buster decides to chase Sukis' taxi across town on a bike, almost getting squashed and flipping out into the river. Soaked and demoralised he limps back to the theatre and after turning into a hilarious puff ball as his hair dries out he ponders his future of making it big. Nana Noodleman (Jennifer Saunders) gives Buster a good talking to and encourages him to follow his dreams despite what Suki thinks.
Buster decides to get the team back together and goes to find Ash, (Scarlett Johansson), a teenage porcupine punk rock guitarist. After telling the club owner to stick his job for ripping her off she decides to join Buster and they head off to meet the rest of the gang at the city bus station. Here, after some soul searching, they eventually board the bus and head off to Redshore City (Las Vegas) to try and win over Jimmy Crystal with Busters' hit show directly.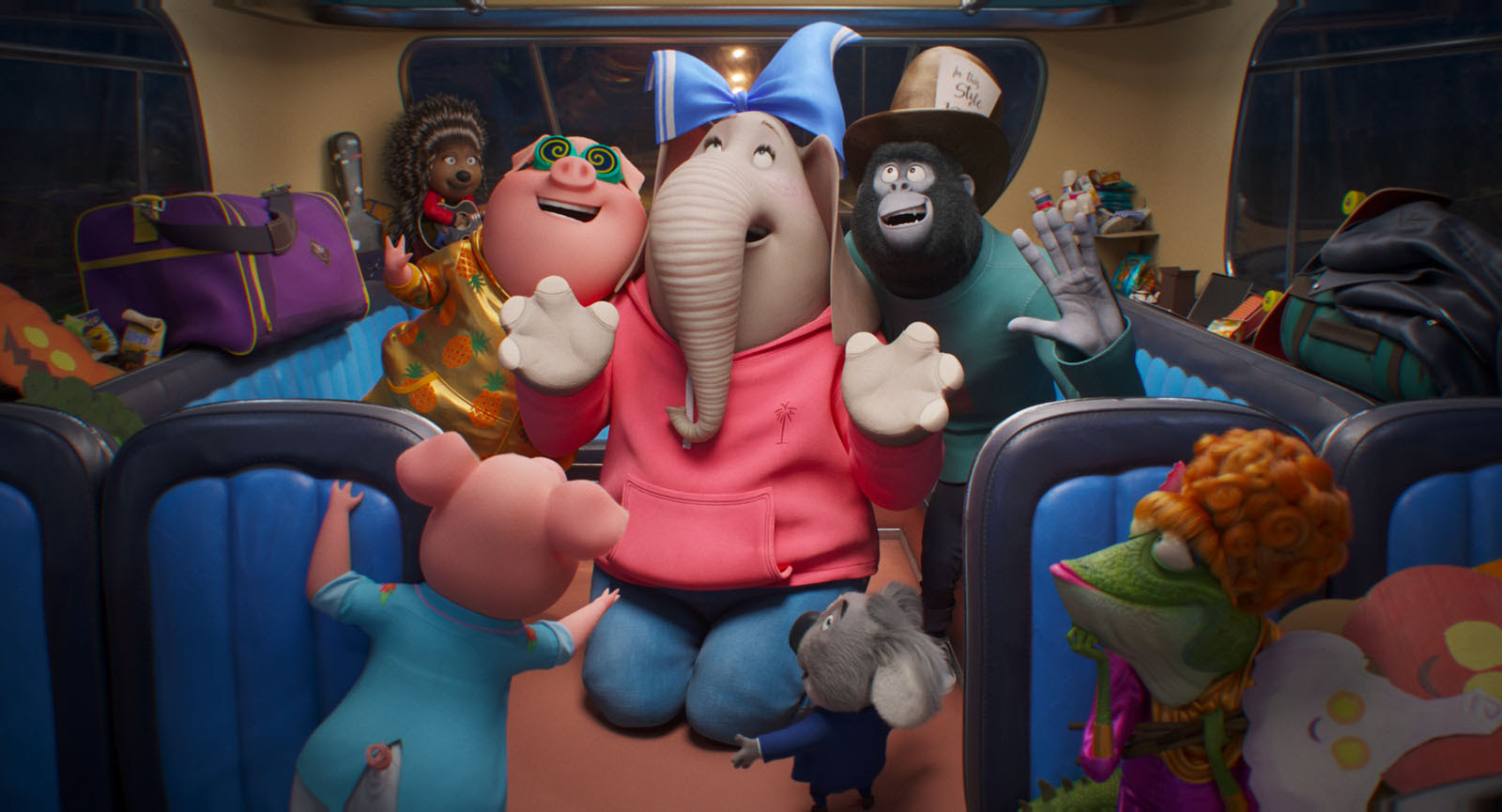 Once in Redshore they find a way to sneak into the X-Factor style auditions that Jimmy Crystal is holding. Everyone is getting red X'd and the gang accidentally get thrown on stage to audition but get an "it's a no from me" too.
Just as Busters' dream is well and truly trashed Gunter saves the day with the idea for a space-themed 'Out of this World' show featuring the rock star legend Clay Calloway (Bono – yes Bono!). Intrigued, and assuming Calloway will be a part of the show, Crystal see's $$$'s and greenlights it, telling them to have the show up and running within three weeks.
Miss Crawley speeds off to find Clay and production on the show starts. During rehearsals Rosita develops a fear of heights and is unable to make a giant leap that's needed for her number. In comes Crystal's spoilt daughter Porsha (Halsey) who thinks it's her destiny to be part of the show and makes the leap to the backing of "this girl is on fire".
Meanwhile, Johnny has to learn some dance moves and is assigned to top choreographer Klaus Kickenklober (Adam Buxton). After Johnny fails to impress Klaus starts to give up on him but thanks to a chance meeting with Nooshy (Letitia Wright), a streetwise lynx, she helps Johnny to regain his confidence and learn some dope street moves. Meenwhile Meena is being cast in a romantic scene with Darius (Eric André), a self-absorbed actor with whom Meena has no chemistry and can't make the scene work until she spots Alfonso, the ice cream seller, who she imagines as her singing partner.
Miss Crawley returns from a distraught meeting with Clay and arrives back missing her glass eye, which has now been replaced with an apple! Ash and Buster decide they have to visit Clay Calloway to convince him to be in the show themselves. Of course, he refuses at first, but Ash changes his mind by rekindling his thoughts of his lost wife and past success.
Back at the theatre, Buster asks Porsha if she would like to switch roles with Rosita as he realises she cannot act. Porsha thinks this means that Buster is firing her and goes off crying to daddy. Upon hearing this, Crystal threatens Buster and tries to throw him off the building before locking him in a closet. Suki frees Buster and warns him to get out of Redshore City, before Crystal kills him. Ash arrives back with Calloway who tells Buster not to run and hide like he did after he lost his wife. Buster decides to put on the show behind Crystals back and gets Porsha to re-join them in the show, while Johnny calls his gangster dad and his gang to come over and keep Crystal and his goons from interfering.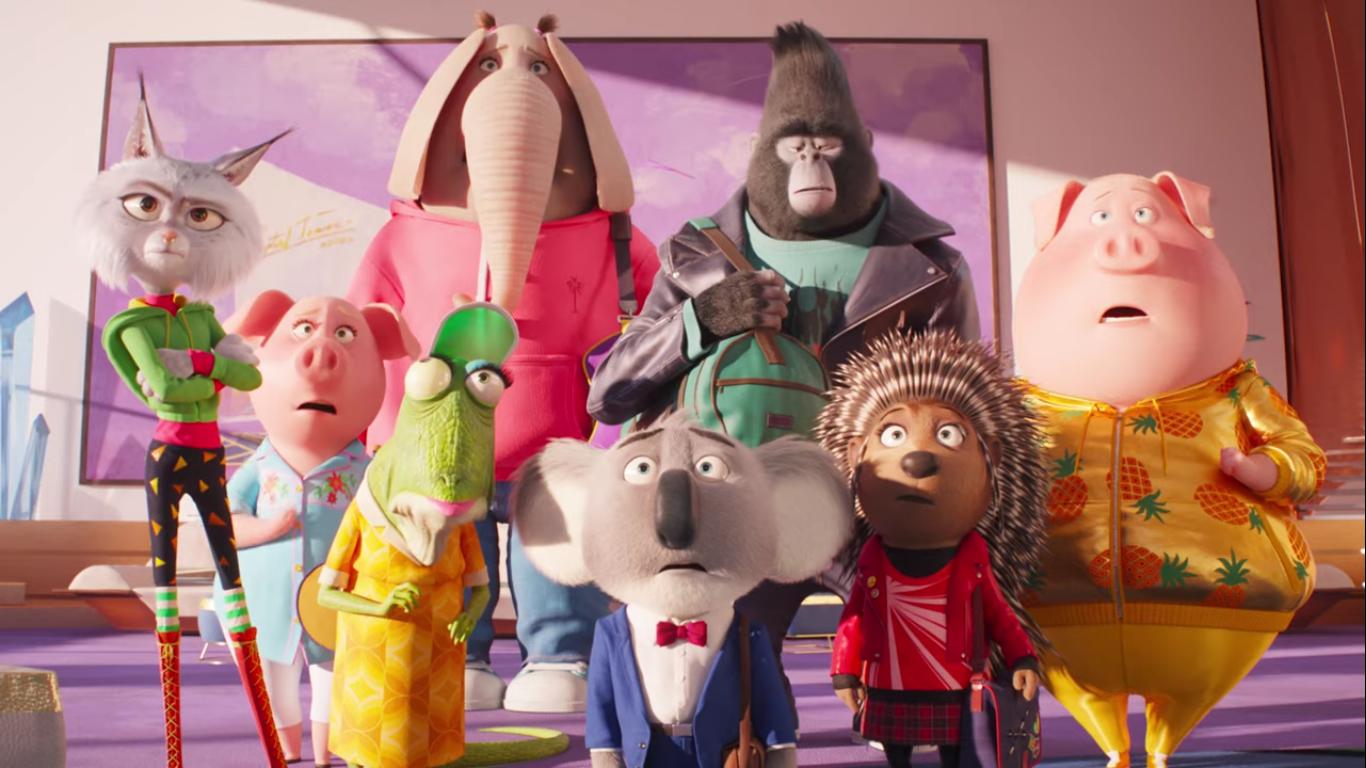 In the final show Klaus, who's now jealous of Johnny's new found ability to dance, highjacks Johnny's performance and tries to undermine his number, but Johnny defeats Klaus with encouragement from Nooshy and finally earns Klaus' respect. Meena visualizes Darius as Alfonso the ice creams seller and performs a romantic duet with him.
Crystal finds out about the show and is angered when Porsha stands up to him during her part, Crystal tries to stop Buster by dropping him off the top of the stage, this causes Rosita to overcome her fear of heights to save him. When the time comes for Calloway to take the stage, he claims that he is not ready. Ash heads out and leads the crowd in a rendition of "I Still Haven't Found What I'm Looking For", which gives Calloway the courage to perform.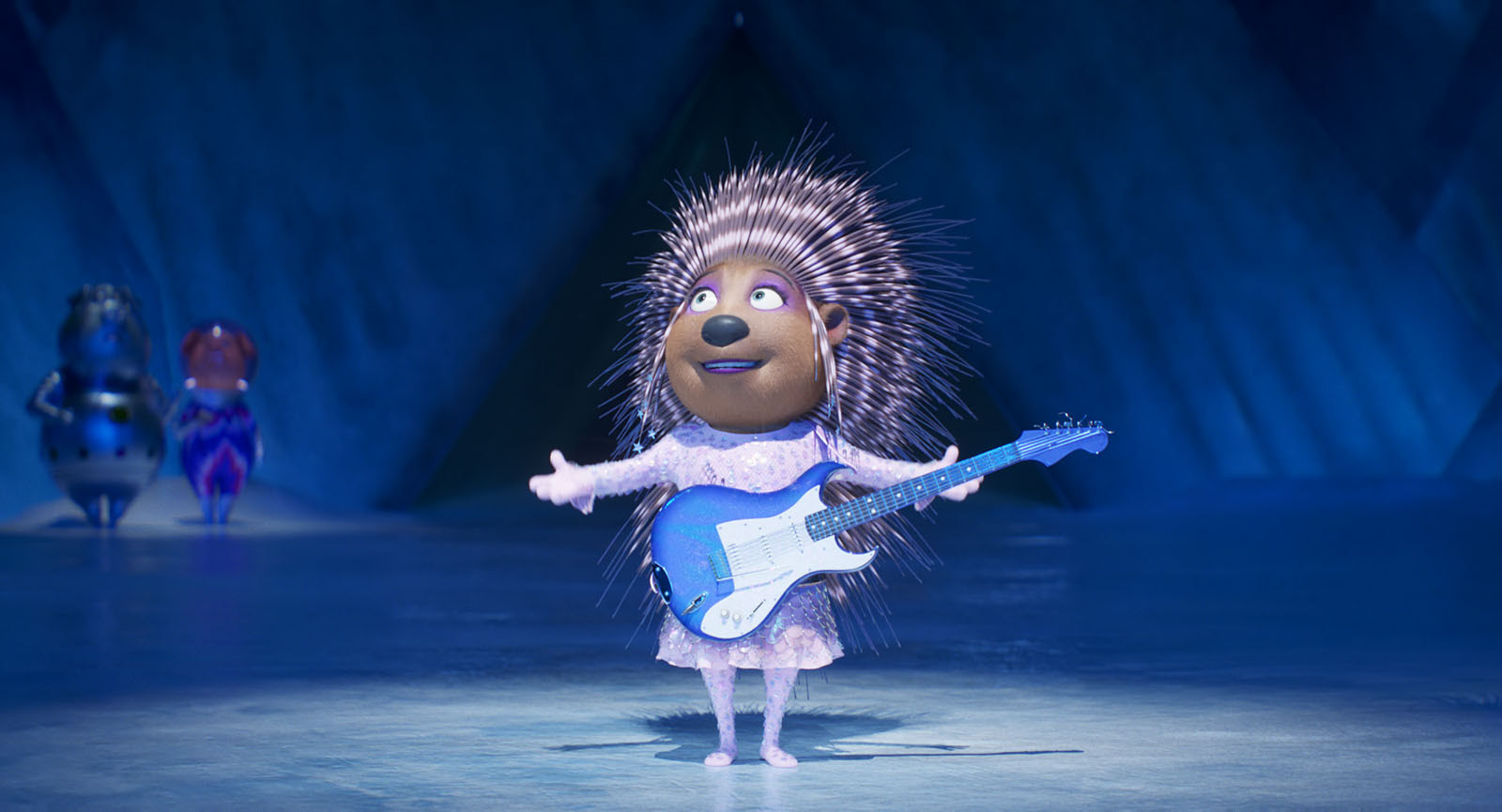 Of course, the show is a huge success and Suki has Crystal arrested by the police for his crimes. While Buster and his friends prepare to leave, Suki stops them and tells them that a major theatre wants to put on their show permenantly. The movie ends with the cast puts performaning in their new home and we see Buster watching on, proud to have made it big in Redshore City.
Phew, yes, we said it was a crazy! But really, words don't do Sing 2 the Movie justice. It's a jam packed non-stop sing-a-long with tons of hit songs and is visually stunning too. Tick, tick, tick for the perfect kids' movie.
The computer animation by illumination is mind boggling and must have taken a huge team to pull off. One thing we were really impressed with is the sheer depth of stuff going on in every scene. You almost need to watch it several times to see it all.
We think Sing 2 is a great movie and would defo recommend it for a family night out. Parents and kids will love it and you won't be able to stop singing along to all the classic tunes.
Sing 2 Movie Sound Track and Artists
1. "Your Song Saved My Life (from Sing 2)" - U2
2. "Let's Go Crazy" - Tori Kelly, Taron Egerton, Reese Witherspoon, Nick Kroll
3. "Can't Feel My Face" - Kiana Ledé
4. "Goodbye Yellow Brick Road" - Elton John
5. "Heads Will Roll" - Scarlett Johansson
6. "Holes" - Mercury Rev
7. "Bad Guy" - Billie Eilish
8. "Sing 2 Audition Medley" - Sing 2 Cast
9. "Where the Streets Have No Name" – Tori Kelly, Taron Egerton, Scarlett Johansson, Reese Witherspoon, Nick Kroll
10. "Higher Love" - Whitney Houston
11. "There's Nothing Holdin' Me Back" - Tori Kelly, Taron Egerton
12. "Suéltate (from Sing 2)" - Sam i, Anitta, BIA, Jarina De Marco
13. "Stuck in a Moment You Can't Get Out Of" - Scarlett Johansson
14. "Soy Yo (Sing 2 Mix)" – Bomba Estéreo
15. "A Sky Full of Stars" - Taron Egerton
16. "Could Have Been Me" - Halsey
17. "I Say a Little Prayer" - Tori Kelly, Pharrell Williams
18. "Break Free" - Reese Witherspoon, Nick Kroll
19. "I Still Haven't Found What I'm Looking For" - Scarlett Johansson, Bono
20. "Tippy Toes (Bonus Track)" - Adam Buxton, Fancy Feelings, DSCOSTU
21. "Christmas (Baby Please Come Home)" – Keke Palmer, Tori Kelly, Taron Egerton, Scarlett Johansson, Reese Witherspoon
Your Reviews
Don't just take our word for it, here's what our insta, twitter and facebook followers said...
Pokiestar - Age 10 ★ ★ ★ ★ ☆
One of the best movies!
I think Sing 2 is a really good movie. It has some dumb jokes but you will love this movie! I think this movie is great for all ages.
Miztiquez Age 12 ★ ★ ★ ★ ★
Its like one of those have to watch movies
but... the movie is actually really good. I love the fact that it brings in all my favourite songs, and the way it is performed. It is just hard for younger kids to understand the movie.
ResXF Age 11 ★ ★ ★ ★ ☆
Gunter the pig is awesome!
I saw the trailer and as soon as I saw Gunter, a pig dancing in a sparkly suit, I thought "Yes, I want to see this film!" When I did watch I was not disappointed. Gunter is hilarious all the way through, and the other characters are also great. All the songs are great, and it's worth watching just to hear them all.
Beckysmum Age 28 ★ ★ ★ ★ ☆
Pretty good movie
I watched the movie yesterday with the kids, 6 and 10. They really enjoyed it and I did too. It was funny, had great songs and a good story. There are one or two scenes that are somewhat dull, but most kids will love it.
Tracey Preston ★ ★ ★ ★ ★
Aww wonderful
Myself and my little lady just watched sing last week for the first time.. It's now one of our favourites
David Collins ★ ★ ★ ★ ☆
Love it
Just taken my grandsons to watch this at the cinema last Friday, we all loved it
Loved this film! My Granddaughter never stopped singing.